SabreS3Digi - ESP32-S3-BOX ESS DAC SPDIF
Short Description
| | |
| --- | --- |
| DAC IC | awarded ESS Technology Sabre ES9023 |
| Output | 3,5mm audio jack |
| Output | digital audio mini SPDIF |
| Connection | ESP32-S3-BOX Pmod Interface |
| Voltage | 3.3 V |
| Dynamic Range | Studio quality with 112dB DNR |
| Async Mode | With OSC up to 192kHz Sampling Frequency |
| Ground | Analog ground separated from digital signal processing |
Package Contains
SabreS3Digi

DAC with ESS ES9023 and mini Toslink SPDIF for ESP32-S3-BOX
Features
| | |
| --- | --- |
| DAC IC | awarded ESS Technology Sabre ES9023 |
| Output | 3,5mm audio jack |
| Output | digital audio mini SPDIF |
| Connection | ESP32-S3-BOX Pmod Interface |
| Voltage | 3.3 V |
| Dynamic Range | Studio quality with 112dB DNR |
| Async Mode | With OSC up to 192kHz Sampling Frequency |
| Ground | Analog ground separated from digital signal processing |
Description
ESS soundcard developed by High-End Audio enthusiasts in the purpose of making an extremely good DAC for HiRes audio.
With patented Hyperstream™ architecture and Time Domain Jitter Eliminator, the ES9023 delivers jitter-free studio quality audio with 112dB DNR. Using an integrated charge pump to generate the negative supply, the ES9023 can operate from a single AVCC supply to drive a ground-referenced 2Vrms output, eliminating the need for output dc-blocking capacitors. Pop-noise is eliminated through a comprehensive suppression on power up/down, mute, reset, loss of power or clock.
A precice on-board oscillator enables this soundcard to decode music with up to 192kHz independently in low-jitter, asynchronous mode.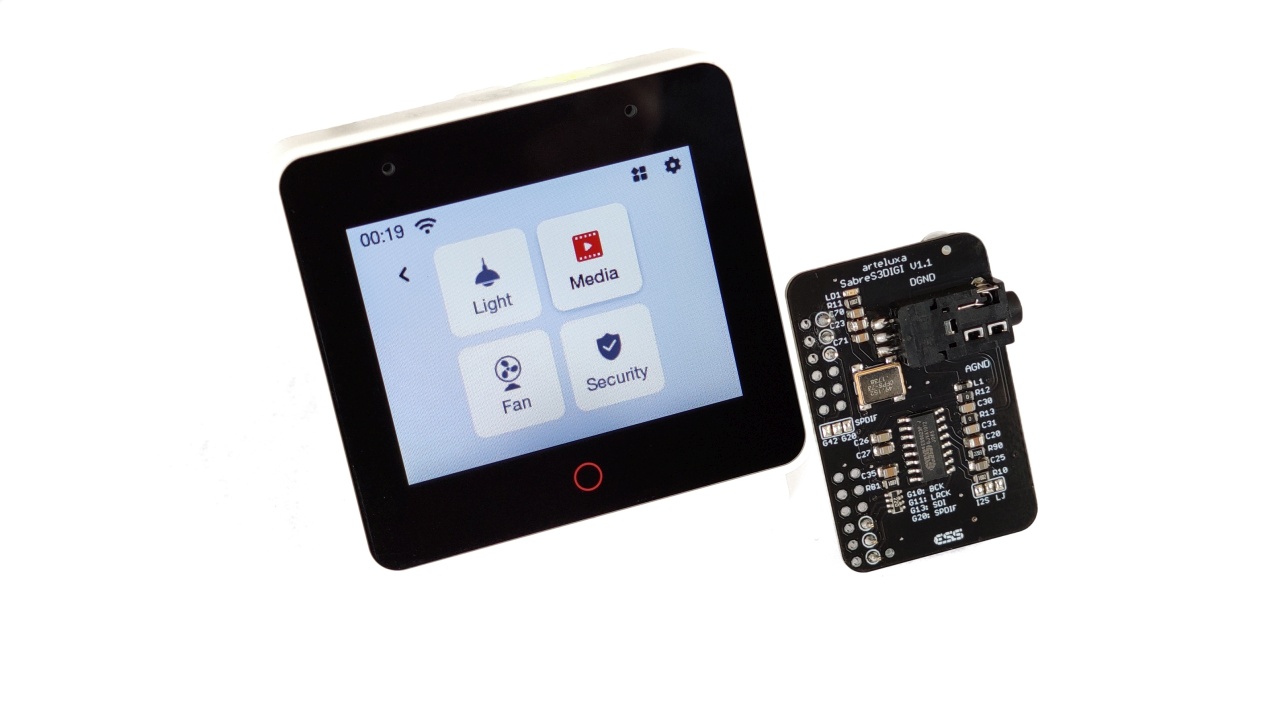 Hardware and Software
Pmod
arteluxa SabreS3Digi utilizes Pmod interface and I2S signals BCLK (G10), LRCK (G11) and DataOut (G13). A very precise masterclock MCLK is generated on the PCB. Digital Audio is connected to SPDIF (G20)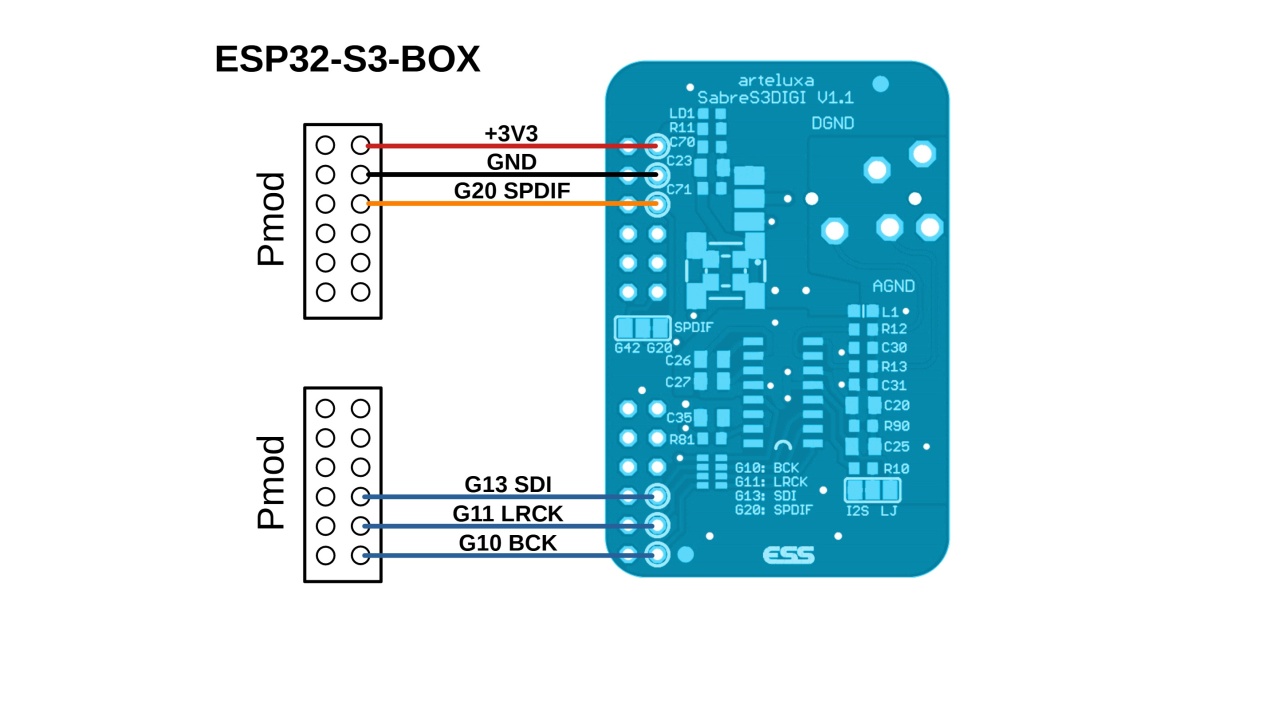 GitHub
Numerous GitHub repositories offer I2S and SPDIF sound for ESP32. Especially when using audio out in parallel with WLAN or Bluetooth on ESP32, several repositories lead to occasional drop-out or clicking. Sometimes, native Arduino-libraries are the root-cause of these phenomenons. Whereas many newer repositories are working perfectly. Some recommended examples can be found here
Github Schreibfaul (Wolle)
or here
Espressif Audio Front End
, for example.
Output Levels
Autosensing from 2VRMS to 1VRMS at 30Ω.
Amplifiers can be connected either to the 3.5mm headphone jack or via mini-SPDIF, as long as SPDIF GPIO is fed by Software accordingly. Amplifiers will be supplied by SABREberry with usual 2VRMS.
Maximum Volume of connected headsets is dependent on its impedance. Headsets usually have an impedance between 32Ohm and 250Ohm. Small headphones with higher impedance run at good volume with the DAC and are preferred for ideal sound.
Package Contains
SabreS3Digi

DAC with ESS ES9023 and mini Toslink SPDIF for ESP32-S3-BOX