HIRESFI AMPER502T True Digital Amplifier 2 x 50W - Touch
Short Description
| | |
| --- | --- |
| Peak Music Power | 2 x 50 Watts; |
| IR Receiver | Decodes Apple Remote 2 Signals |
| Topology | ARM Cortex & WM8805 & STA350BW Sound Terminal® |
| Tone Control | Volume Balance Bass Treble |
| Mini DSP | 5-Channel parametric EQ |
| Control | OLED Touch-Screen |
| MW8805 Mode | WM8805 I2C software mode with PLL |
| SNR and Dynamic | Consistent 100dB SNR + 100dB DR |
| Memory | Onboard flash memory for all settings |
| Input A | optical digital Toslink |
| Input B | SPDIF coaxial RCA - isolated with PULSE transformer |
| Output Connector | 4mm gold plated banana sockets |
| Speaker Load | 3Ω to 8Ω |
| Voltage Range | DC 5V-24V 5000µF internal capacity |
| PSU | AC230V AC/DC Adapter, stabilized |
| Dimensions | 8cm x 3cm x 11cm |
Package Contains
HIRESFI

AMPER502T

T-AMP True Digital Stereo Amplifier

AC230V AC/DC Adapter, stabilized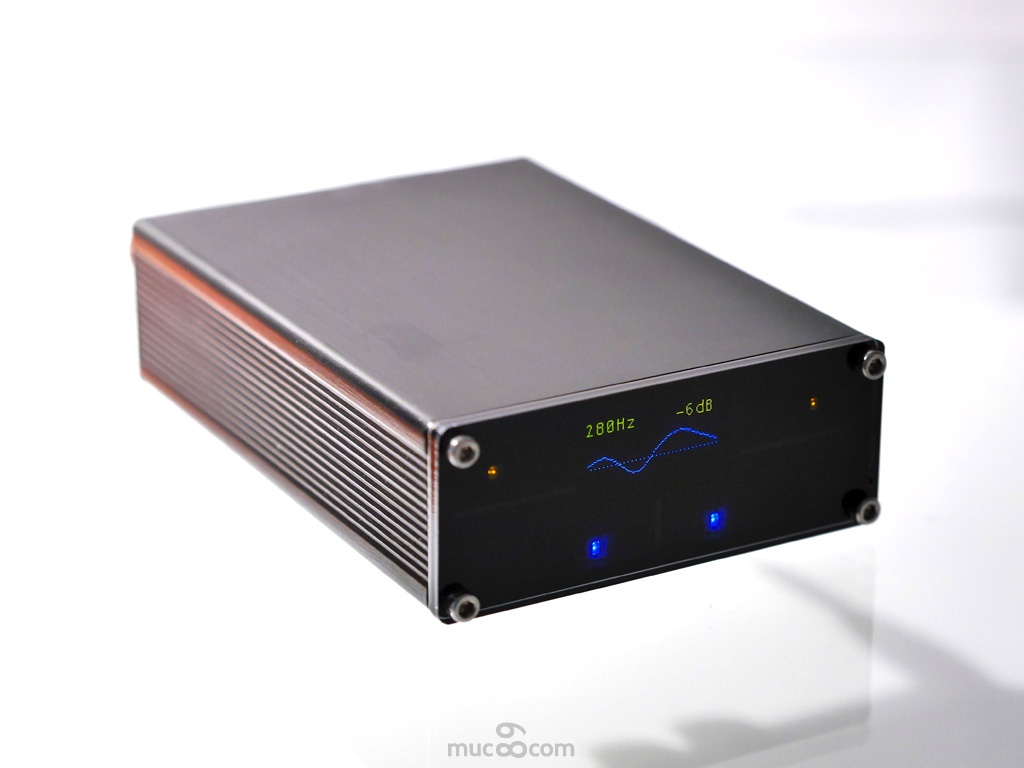 Features
| | |
| --- | --- |
| Peak Music Power | 2 x 50 Watts; |
| IR Receiver | Decodes Apple Remote 2 Signals |
| Topology | ARM Cortex & WM8805 & STA350BW Sound Terminal® |
| Tone Control | Volume Balance Bass Treble |
| Mini DSP | 5-Channel parametric EQ |
| Control | OLED Touch-Screen |
| MW8805 Mode | WM8805 I2C software mode with PLL |
| SNR and Dynamic | Consistent 100dB SNR + 100dB DR |
| Memory | Onboard flash memory for all settings |
| Input A | optical digital Toslink |
| Input B | SPDIF coaxial RCA - isolated with PULSE transformer |
| Output Connector | 4mm gold plated banana sockets |
| Speaker Load | 3Ω to 8Ω |
| Voltage Range | DC 5V-24V 5000µF internal capacity |
| PSU | AC230V AC/DC Adapter, stabilized |
| Dimensions | 8cm x 3cm x 11cm |
Description
AMPER502T is a true digital, highly integrated and compact stereo power amplifier with up to 2x50 watts. While many conventional power amplifiers still utilize analogue pre-amplifiers and often have discrete analogue transistor based power sections, all components in AMPER are strictly digital leading to full performance and zero background noise. Digital input signals in AMPER are received with Wolfson's prestigious WM8805, then processed by its PLL and passed directly without re-sampling into the digital power amplifier IC STA350BW from STMicroelectronics. STA350BW is one of very few audio ICs, which can process high resolution digital audio data up to 96kHz directly. Hum, noise or grinding noise from used analogue potentiometers are anachronistic and a thing of the past with this topology. With a team of latest technology 32bit ARM micro-controller and coloured OLED display, AMPER is controlled comfortably and visually appealing. The result is a state of the art, small and compact power amplifier, which works seamlesly from 5V to 24V for music from PC, tablet, streaming box or partying sound. AMPER is first choice of a small, powerful, compact and fully digital stereo power amplifier with crystal clear sound.
Direct Digital Link - An Audible Experience
Legacy amplifiers usually send their digital audio data to a Digital-to-Analog converter first and sometimes control volume and tone still on the analog NF signal. AMPER on the other side transports its audio signal completely digital away into the Class-D power stage. In AMPER the NF signal stage, which is heavily sensitive on noise and other distortions, has been dropped.

Digital Audio Data in AMPER is received by Wolfson Audio WM8805 SPDIF Transceiver developed in Scotland. AMPER operates WM8805 completely by I2C software control and only this way achieves its highly acclaimed features. The Direct Digital Link technology developed exclusively for AMPER first senses the input sampling frequency of the digital audio signal and pre-processes the signal utilizing WM8805's PLL. Sophisticated techniques in Wolfson's WM8805 lead to a new jitter-free clock of the audio signal (re-clocking) without changing the sampling frequency. Exactly this clean and precise audio signal is then passed on - in its original resolution - to ST Microelectronics Audio IC. Associated control information is transmitted with an 32bit ARM controller. The amplifier IC is then responsible for volume, miniDSP and power amplification for driving the speakers. Sound generated with Direct Digital Link is not affected by any analog interference and not by any data loss on the I2S interface. 100dB SNR signal to noise ratio right from the digital source into the speakers - and not only on a short section in between: this is an audible experience.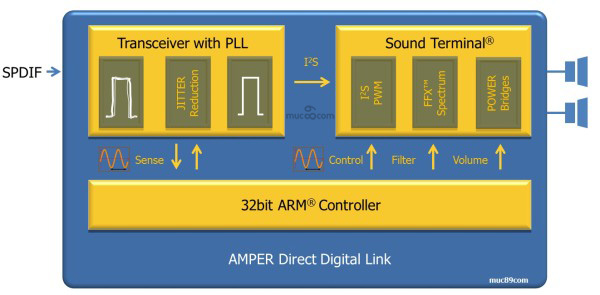 OLED Touch-Screen Control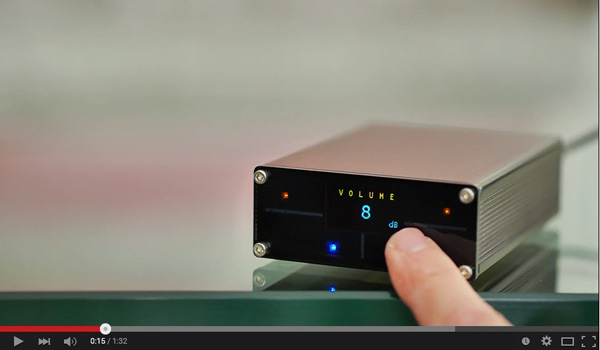 Touchscreen on Youtube
Menu Tree with Mini-DSP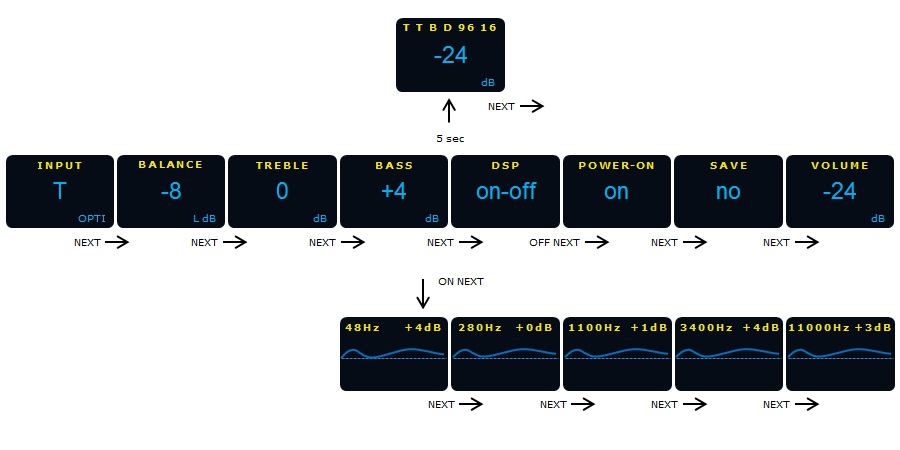 CONTROL RANGE

| | |
| --- | --- |
| Volume | -80dB .. +40dB |
| Input | C = Cinch T = Toslink |
| Balance | Left -80db .. Center .. -80db Right |
| Treble | -12dB .. +12dB |
| Bass | -12dB .. +12dB |
| Mini DSP | Off On |
| EQ Peak Filter 48Hz | -10dB .. +10dB |
| EQ Peak Filter 280Hz | -10dB .. +10dB |
| EQ Peak Filter 1100Hz | -10dB .. +10dB |
| EQ Peak Filter 3400Hz | -10dB .. +10dB |
| EQ Peak Filter 11000Hz | -10dB .. +10dB |
| Power On | Off On 10sec 20sec 30sec |
| Startvolume | -80dB .. +40dB |
| Stand-By/Mute | Left Touch button |
Connection Terminal

Voltage and Power
The STA350BW is part of the Sound Terminal® family from ST Microelectronics, that provides full digital audio streaming into the speakers with 100dB SNR. It offers perfect effectiveness, low heat dissipation and great sound enrichment.
The AMPER502T audio power section is configured via digital control to operate as two BTL full-bridges, supplying up to 2 x 50W of output power - from 3Ω to 8Ω speakers.
All AMPER amplifiers work already nicely with the 5 Volts from a normal USB-A socket. The AMPER502T is designed to work at voltages from 5V to 24V and provides a full, clear and strong-willed sound scenery over the whole range. AMPER has several large capacity electrolytic capacitors on board which deliver best peak music performance for most scenarios - even with smaller power supplies. For louder requirements a larger and seperate power supply is recommended, of course. By design, voltage and grounds are separated internally between the digital section and the analog audio section for minimum mutual bias. AMPER is protected by on-board poly-fuse, TVS diode and over temperature sensors against voltage reversal and over voltage. Nevertheless, the power supply shall comply with correct polarity and the maximum voltage of 24V at any time.
AMPER502T has a two-staged voltage regulator section, which usually can only be found in high-end amplifiers. In the first stage a high-frequency buck step-down converter brings voltage down with optimal efficiency and low heat dissipation. For the second stage an ultra-low noise LDO provides the required voltage then with only 11.5 µVRMS output noise.
For even better impulse response, AMPER502T electrolytic capacitors have an increased capacity of 5000µF in total.
DC Power: Standard 5.5/2.1mm DC jack (minus pole is outside)
IR Remote Control
AMPER includes an Infrared Receiver for Remote Control. Infrared signals from Apple Remote 2nd/3rd Generation are recognized by AMPER. Apple Remote 2 itself or an Universal Remote Control can be utilized. For Logitech Harmony model number A1427 shall be selected in order to send compatible infrared signals. The Remote Control is not included in the package.
Remote Control Functions

| | |
| --- | --- |
| UP | Volume UP or Bass/Treble/DSP Frequency UP |
| DOWN | Volume DOWN or Bass/Treble/DSP Frequency DOWN |
| RIGHT | NEXT MENU or NEXT DSP Frequency |
| LEFT | PREVIOUS MENU or PREVIOUS DSP Frequeny |
| Play/Pause | StandBy/Power ON |
Package Contains
HIRESFI

AMPER502T

T-AMP True Digital Stereo Amplifier

AC230V AC/DC Adapter, stabilized

Wolfson WM8805 Flyer

ST Microelectronics FFX Sound Terminals®
Copyright © 2023 muc89. All rights reserved.