Short Description
| | |
| --- | --- |
| DAC IC | Awarded TI PCM5122A |
| Dynamic Range | Studio quality audio with 112dB DNR |
| USB | 48kHz/24bit USB-C Audio |
| Digital Filter | 8 x oversampling digital filter at internal 384kHz |
| Volume | Digital Volume Control in HW |
| Direct Path | w/o DC blocking capacitor or tone coloring |
| Control | 100% USB Audio: volume, bass, balance... |
| Application | w/o driver in Windows, MAC OS X, ... |
| Input | USB-C socket for USB-C data cables |
| Output | 3.5mm headphone socket 2.1VRMS |
| Dimensions | 42mm x 20mm x 10mm |
| Weight | approx. 20g |
Package Contains
UD22M

PCM5122A USB Type-C DAC

USB-C to USB-A short nylon cable
Small velour bag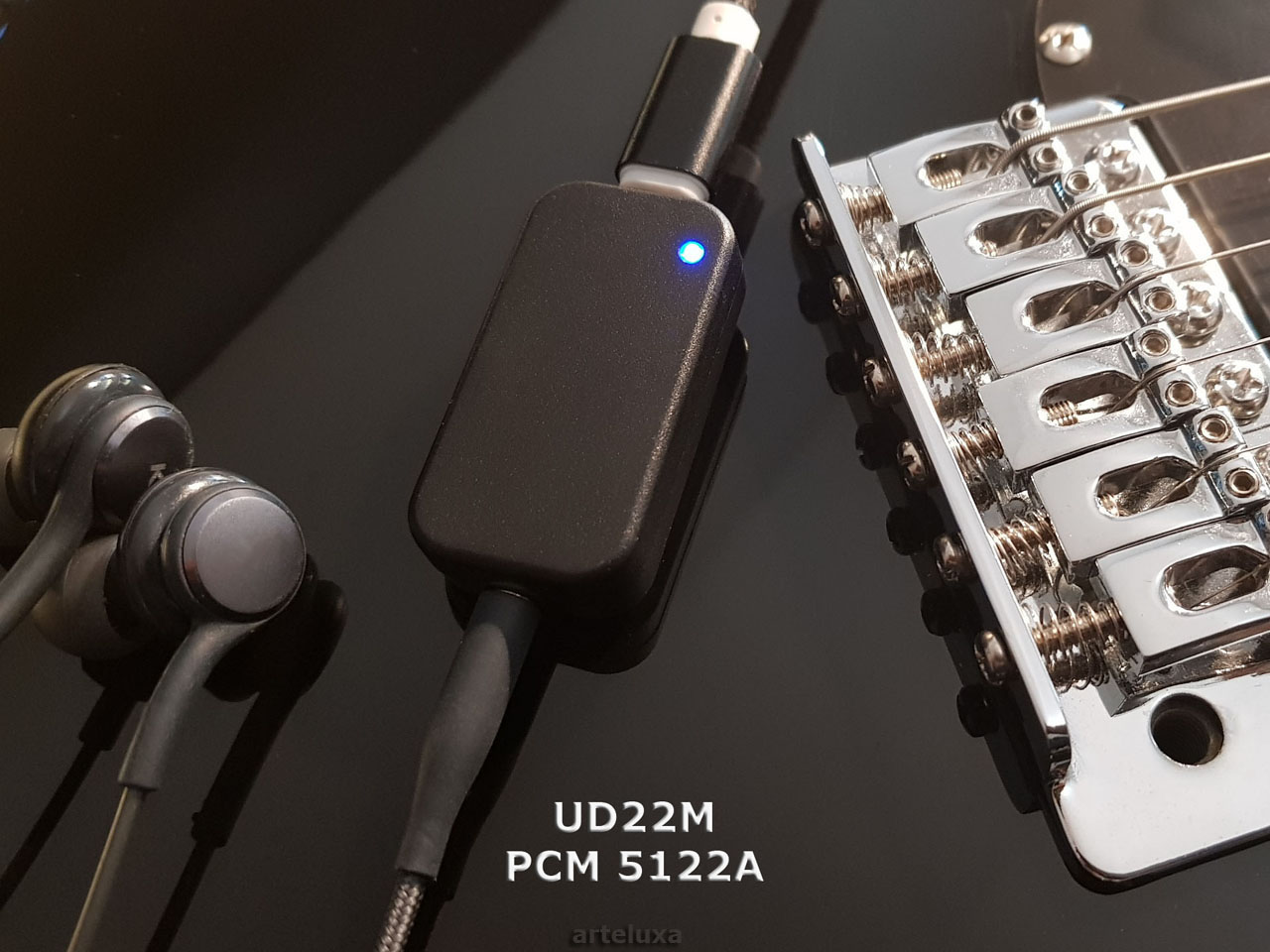 Features
| | |
| --- | --- |
| DAC IC | Awarded TI PCM5122A |
| Dynamic Range | Studio quality audio with 112dB DNR |
| USB | 48kHz/24bit USB-C Audio |
| Digital Filter | 8 x oversampling digital filter at internal 384kHz |
| Volume | Digital Volume Control in HW |
| Direct Path | w/o DC blocking capacitor or tone coloring |
| Control | 100% USB Audio: volume, bass, balance... |
| Application | w/o driver in Windows, MAC OS X, ... |
| Input | USB-C socket for USB-C data cables |
| Output | 3.5mm headphone socket 2.1VRMS |
| Dimensions | 42mm x 20mm x 10mm |
| Weight | approx. 20g |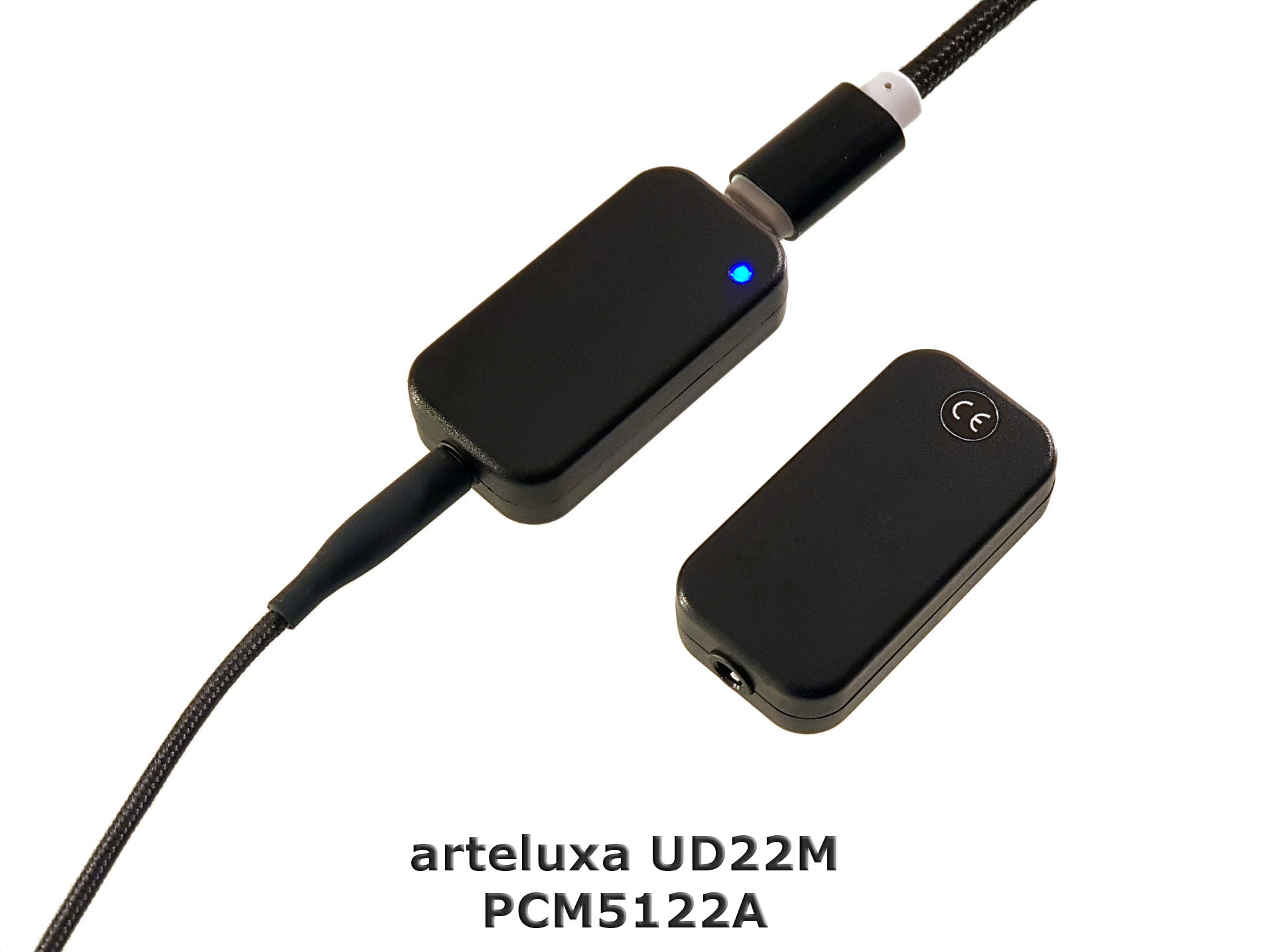 Description
HIRESFI USB DAC 5122A was developed by High-End Audio enthusiasts in the purpose of making an extremely good miniature USB DAC with RCA out.
arteluxa USB-C DAC UD22M utilizes the PCM5122A Digital Analog Converter from Texas Instruments in combination with a fully USB Audio Class compatible USB codec. Having this in the box, this DAC works seamlessly with most operating systems right away - without the need for proprietary drivers or apps. With its premium IC from TI this HIRESFI USB-C DAC scores with 112dB DNR in the Champions League for HiRes audio DACs. With compressed music or lossless FLAC up to CD or DVD resolution an impressive gain in sound performance can be experienced compared to conventional DACs.
8 x Oversampling Digital Filter in 348kHz: arteluxa USB-C DAC UD22M up-samples audio data in real time on the IC to 8 x 48kHz. It utilizes its internal DSP-filters in 348kHz for crystal clear and deep black sounding. Negative influence originating from USB drivers by foreign suppliers or from jitter on the USB Bus is therefore prevented.
arteluxa USB-C DAC UD22M offers pleasures of finest sound in studio quality - and pure lust for life.
Not only the electronic components have been selected from the higher and exclusive end. Even the small black box with approximately 20 gramms is valuable and stable. arteluxa USB-C DAC UD22M just needs the power from the USB bus. Power is internally processed and regulated by a fully integrated low noise regulator for perfect fit with the DAC IC.
In combination with a decent power amplifier, driven by PC, Notebook, Tablet, MacBook, iPAD, ... arteluxa USB-C DAC UD22M will deliver an outstanding sound spectrum.
Typical Applications
Windows, Android, Linux, macOS, ... all plug & play
Volume level and sound is controlled by usual control keys on your computer.
arteluxa USB-C DAC UD22M is made for applications with streaming and lossless FLAC media up to CD (44.1kHz) and DVD (48kHz) quality. Its USB audio interface is fixed at 48kHz 24Bit and thus only relevant bit-information is passed on to the DAC, which then up-samples audio data internally to 384kHz itself. This way arteluxa USB-C DAC UD22M shapes an optimized analog output signal with its own, vast high-end algorithms.
Some pretty sensible features have also been addressed with arteluxa USB-C DAC UD22M: premium resolution of finest sound details with 112dB signal-noise-ratio, soft-mute at the switching on/off and fully compatible USB audio implementation. All virus-proof audio-features natively available in the operating system can be used right away - without the need for proprietary device drivers.
Highlights Texas Instruments PCM5122A DAC
Direct PathTM Line Level 2.1VRMS
No DC blocking capacitor, no tone colouring
Intelligent muting system: Soft up and down ramping
Permanent voltage good control: pop-free switch-on/off
Direct headphone connect via 3.5mm socket or amplifier connection via RCA-adapter

TI PCM5122A Digital-Analog-Converter
Package Contains
UD22M

PCM5122A USB Type-C DAC

USB-C to USB-A short nylon cable
Small velour bag