HIRESFI USB DAC 9023 Mark II
Short Description
| | |
| --- | --- |
| DAC IC | Awarded ESS Technologies ES9023 HyperstreamTM DAC |
| Dynamic Range | Studio quality audio with 112dB DNR |
| Direct Path | w/o DC blocking capacitor or tone colouring |
| USB Codec | Silicon Labs Digital Audio Bridge 48kHz 16bit |
| Regelung | Pushbuttons for Volume Control |
| USB | USB 2.0 Full-Speed |
| Application | w/o driver in Windows, MAC OS X, ... |
| Input | Micro-USB socket (for micro-USB data cables) |
| Output A | Gold plated RCA sockets L/R 2.1VRMS |
| Output B | 3.5mm Socket for small, high-impedance headphones |
| Body | Valuable and stable aluminium profile |
| Dimensions | 45mm x 55mm x 20mm |
| Weight | approx. 50g |
Package Contains
HIRESFI

USB DAC9023 Mark II

(micro-USB Socket - RCA Out - 3.5mm Socket)
Features
| | |
| --- | --- |
| DAC IC | Awarded ESS Technologies ES9023 HyperstreamTM DAC |
| Dynamic Range | Studio quality audio with 112dB DNR |
| Direct Path | w/o DC blocking capacitor or tone colouring |
| USB Codec | Silicon Labs Digital Audio Bridge 48kHz 16bit |
| Regelung | Pushbuttons for Volume Control |
| USB | USB 2.0 Full-Speed |
| Application | w/o driver in Windows, MAC OS X, ... |
| Input | Micro-USB socket (for micro-USB data cables) |
| Output A | Gold plated RCA sockets L/R 2.1VRMS |
| Output B | 3.5mm Socket for small, high-impedance headphones |
| Body | Valuable and stable aluminium profile |
| Dimensions | 45mm x 55mm x 20mm |
| Weight | approx. 50g |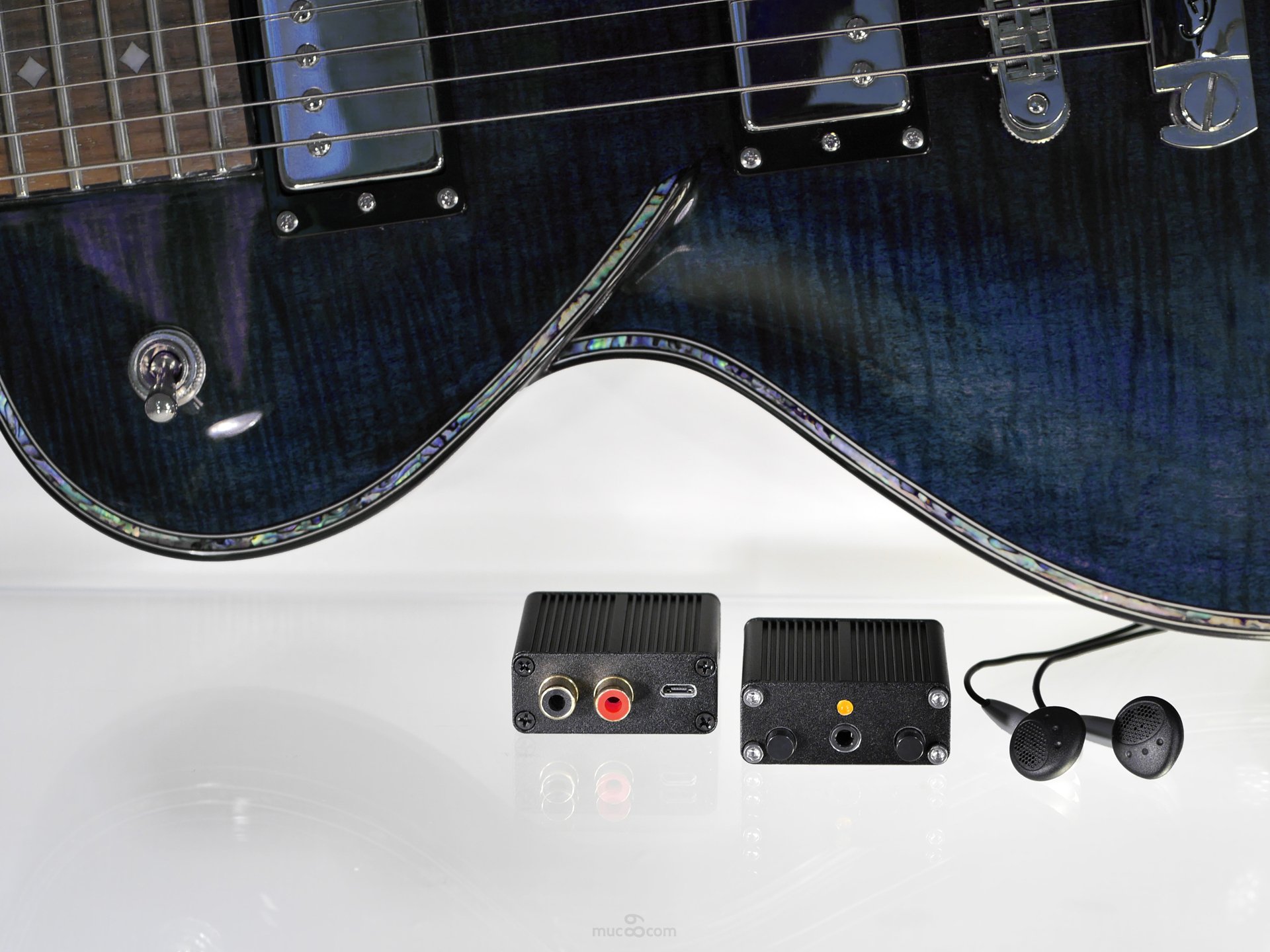 Description
HIRESFI USB DAC9023 Mark II was developed by High-End Audio enthusiasts in the purpose of making an extremely good miniature USB DAC with RCA out and 3.5mm socket.
HIRESFI USB DAC9023 Mark II utilizes the ES9023 Digital Analog Converter from ESS technologies in combination with a fully USB Audio Class compatible USB codec. Having this in the box, this DAC works seamlessly with most operating systems right away - without the need for proprietary drivers or apps. With its premium IC, this HIRESFI USB DAC scores with 112dB DNR in the Champions League for HiRes audio DACs. With compressed music or lossless FLAC up to CD or DVD resolution an impressive gain in sound performance can be experienced compared to conventional DACs.
HIRESFI USB DAC9023 Mark II offers pleasures of finest sound in studio quality - and pure lust for life.
Not only the electronic components have been selected from the higher and exclusive end. Even the small black box with approximately 50 gramms is made from valuable and stable full aluminium profile. HIRESFI USB DAC9023 Mark II just needs the power from USB bus. Power is internally processed and regulated by a fully integrated low noise regulator for perfect fit with the DAC IC.
In combination with PC, Notebook, Tablet, MacBook, iMac, iPAD,... HIRESFI USB DAC9023 Mark II will deliver an outstanding sound spectrum.
ESS9023 DAC Refined
We delivered one of the first ESS9023-based USB DACs some time ago and were pretty satisfied with its sounding. Yet, we felt some things were missing: a quality aluminium housing, gold-plated RCA phono sockets and an USB codec IC without power-on crackles and completely generic operating system driver support. HIRESFI USB DAC9023 Mark II offers all of this - for still affordable price. Volume keys are just the cherry on the top.
Highlights of SABRE ES9023 DAC Chip
The sound goes straight out of the DAC chip and into your headphones or amplifier. There is no DC voltage to be removed, and no need for the sound signal to go through a capacitor to remove such voltage. This omits the need of a capacitor, which always reduces sound quality.
The ESS SABRE ES9023 upsampling DAC is the world's first chipset designed from the ground up to eliminate the anti-musical, high amount of jitter that is commonly found in smartphones, computers and tablets. Using a patented process called HyperstreamTM the ESS SABRE ES9023 buffers the incoming digital bitstream and overclocks it from thousands of picoseconds of jitter to less than 3 picoseconds. That means your computer, smartphone or tablet can have sonic performance equal to the world's best CD players. But not only our HIRESFI USBDAC9023 Mark II relies on HyperstreamTM architecture and Time Domain Jitter elimination.
Even Krell, McIntosh or Peach Tree count on them.
Package Contains
HIRESFI

USB DAC9023 Mark II

(micro-USB Socket - RCA Out - 3.5mm Socket)